Ricotta Blueberry Pancake
Ricotta Blueberry Pancake
Introduction: Ricotta blueberry pancake is a nice variation of the traditional American pancake. The addition of lemon zest gives it a special flavor in combination with the ricotta cheese. Blueberries are the added flavor bonus.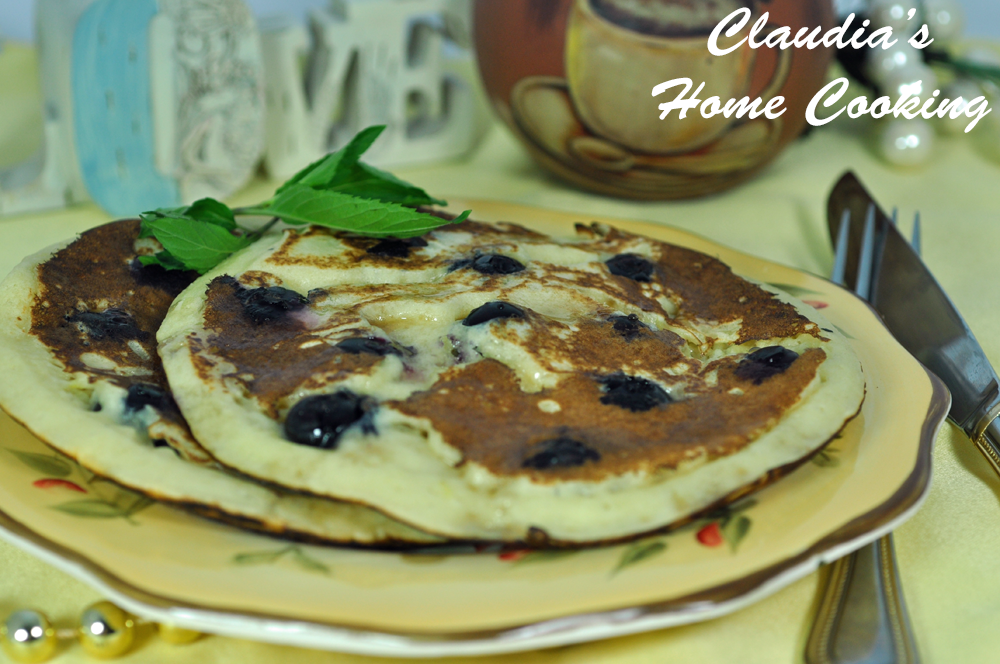 Prepared and Photographed by:
Claudia Davis
Prep time:
Cook time:
Total time:
Ingredients
1 cup (200 g) all-purpose flour
1 tbsp baking powder
¼ cup (50 g) sugar
pinch of salt
1 tsp vanilla extract
1 cup (200 ml) milk
2 eggs
1 cup ricotta cheese
zest from 1 lemon
1 cup blueberries
honey or maple syrup or confectioner sugar for serving
Instructions
Place the dry ingredients flour, salt, baking powder in a large bowl and mix well
In a mixer bowl place ricotta cheese and sugar mixing well on low speed
Add eggs one at a time mixing well
Add milk and mix well
Slowly add the dry ingredients mixed in the bowl and mix well on low speed
Add vanilla extract and the lemon zest continuing to mix
At this point you should have a mixture butter milk consistency
Pour half a ladle of the batter on a medium hot griddle (you can use a pan if you din have a griddle)
Place blueberries on the top of the pancake
When the pancake starts bringing air bubbles to its surface it's time to flip, this should take about a couple of minutes, depending on the temperature of your griddle.
Flip on the other side and cook for another minute or so
Repeat until all the batter is gone
Serve with honey, maple syrup or just sprinkle with confectioner sugar. Enjoy!
(Visited 75 times, 1 visits today)